All rooms and lobby air-conditioned, TV and full private bathrooms
High Speed Wifi on Entire property
Mini Fridges in All rooms except Premium a Standard rooms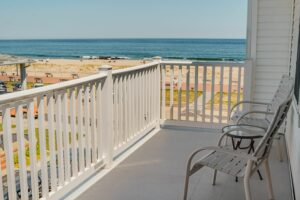 Discounted beach passes for Purchase Cash only
Beach towel Rentals available at front Desk Between 9am and 5pm. All Beach Towels are a $20 Dollar hold on your account. (If the towel is returned We will take the Hold off your Account.
Complimentary coffee and tea from 7am to 5:00pm
Microwave and ice machine available in common area for our guest's use
No smoking on premises and no pets. $350 dollar fine for any Violations
Handicapped accessible. Ground floor rooms available
Light Continental Breakfast everyday from July 1st Through Labor Day.
Coffee and tea always served.
By reserving a room and Checking in you are agreeing to being held responsible for any damages in the room and agree to be charged property damages.
A representative of management is always present