The Shawmont. An Ocean Grove Landmark
It's an Ocean Grove landmark that has stood since 1871, when the hotel was originally named "The Ocean Avenue House" around the 1920's with an 85 person capacity. Ida Almira Shaw of Philadelphia later changed the name to The Shawmont. The Whiteman Family purchased the hotel in 2004 and a full renovation of all rooms and lobby was undertaken. Family owned and operated, The Shawmont continues its legacy by being regularly updated to honor the Victorian history with a modern coastal flair.
The Shawmont Hotel is undergoing renovation and decor updates, ownership has not changed since 2004. The Whiteman Family will continue to update and keep the same rich history that has been in these walls since 1871. All are family at the Shawmont!
Ulysses S. Grant was in the White House when the first visitors relaxed on our beautiful, expansive porch. With and unobstructed view of the Atlantic Ocean.
The same year The Shawmont started its legacy, Yellowstone was designated as the first national park. A full 18 years before production of the gasoline-powered automobile.
Leopold Stokowski was 11 years old. The smoke of Civil War battlefields had scarcely cleared.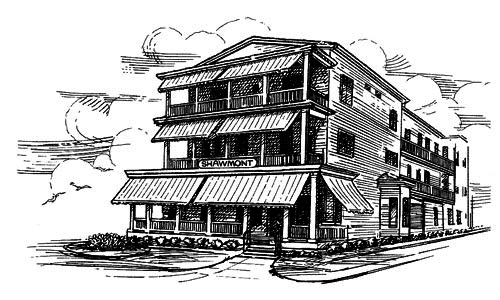 The Shawmont stands as a beacon welcoming travelers and vacationers. One of the only Ocean Front Hotels in Ocean Grove New Jersey, it is no wonder the Shawmont Hotel is number one destination in Ocean Grove.
Ocean Grove is listed in the National Register for historic sites, and why travel writers refer to the community as perhaps the best-kept secret on the Jersey Shore.
Welcome to the Shawmont. Be assured that we are committed to making your stays with us the best ever.