The shawmont. A cherished Ocean Grove Landmark
It's an Ocean Grove tradition that has endured since 1871, when the hotel was originally named "The Ocean Avenue House" around the 1920's with an 85 person capacity. Ida Almira Shaw of Philadelphia later changed the name to the Shawmont. The Whiteman family purchased the hotel in 2004 and a full renovation of all rooms and lobby was undertaken.
Imagine, Ulysses S. Grant was in the White House when the first visitors relaxed on our snug veranda, watching blue-green breakers roll in from the Atlantic.
It was the year of the Great Chicago Fire. A full 18 years before production of the gasoline-powered automobile.
Leopold Stokowski was 11 years old. The smoke of Civil War battlefields had scarcely cleared.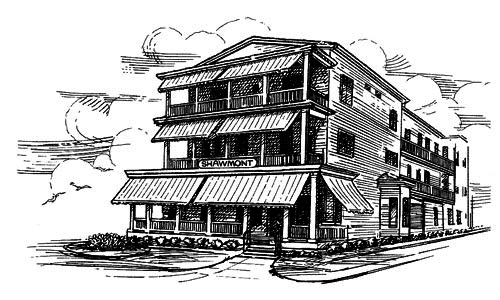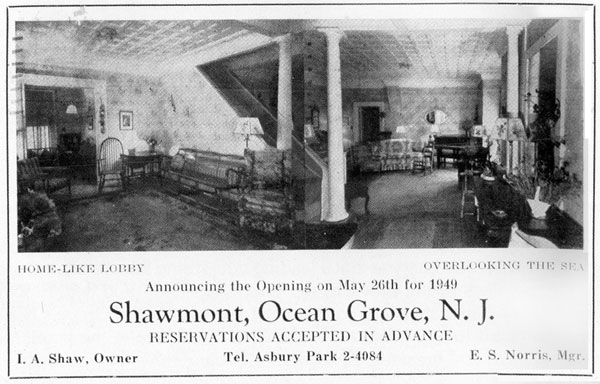 Against this rich tapestry of time, the Shawmont stands as a beacon welcoming travelers and vacationers, as well as those seeking spiritual growth through the message of the most respected speakers of our time –
and who continue to grace the pulpit of the Great Auditorium.
Yet there's still more. Exciting entertainers thrill audiences each summer weekend.
A recently reconstructed Youth Temple adds programs with special appeal to younger age groups. All this and one of the top ten beaches on the Atlantic.
Little wonder that Ocean Grove is listed in the National Register for historic sites, and why travel writers refer to the community as perhaps the best-kept secret on the Jersey Shore.
Welcome to the Shawmont. Be assured that we are committed to making your stays with us more pleasurable than ever.